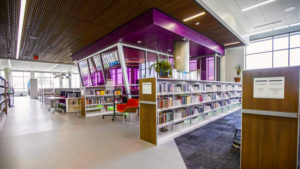 The innovative public private partnership, with Royal Capital serving as lead developer and owner, received both the Mayor's and Business Journal design awards. Located on the Northwest side of Milwaukee, the development features (65) mixed-income apartment homes, anchored by a state of the art new 18,000 square feet Milwaukee Public Library.
The completion of Fortitude Apartments, marked the first new construction housing development in the area in more than a decade with the new library replacing an aging library facility that had surpassed its useful life.
The project also includes the following amenities:
Makerspace
Community rooms
Fitness center
Media center
outdoor reading garden
Common Area Wi-Fi
To learn more about Fortitude Apartments and Good Hope Library, please contact us at info@RoyalCapital.net.